Jewel Considers Herself a 'Type A' Mom-to-Be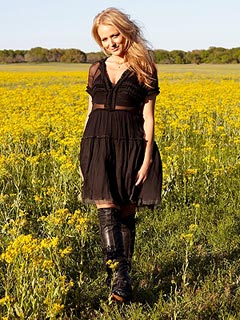 Lynda Churilla
Pregnant with her first child, Jewel's not taking any chances getting ready for the birth of her son, due in early July.
"I'm really excited. It's my first baby, so we've been kind of preparing as we plan," she tells PEOPLE of her and husband Ty Murray's plan of attack. "Though we have a sneaking suspicion you can never be prepared enough."
Calling herself a "Type A personality," the singer says she's been doing her fair share of research, but added that Murray "asked me for the baby book the other day and was reading it, so I'm fairly impressed."

Impending motherhood has also helped Jewel evaluate her eating habits, which is why the country singer chose to partner with Libby's Fruits and Vegetables to encourage families to spend mealtimes together.
"I have great memories of doing that as a kid, and there's also a lot of research out there about how families that eat together, their kids are smarter and healthier and have more self-esteem," she explains.
"I like cooking, but I hate spending a lot of time in the kitchen. I'm not going to spend four hours making a meal. So the more shortcuts I can take that are healthy and nutritious to get to the table, I'm really looking at."
In addition, Libby's is also sponsoring a contest via their Facebook page that allows for one lucky family to re-write their jingle and score a $10,000 prize. Five finalists will be picked by Jewel, with America's votes deciding the winner.
"I want to encourage people to be creative," says Jewel, who will debut her own version of the jingle in the fall, alongside a new album of children's music inspired by her pregnancy.
"I wanted it to be a record that was hopefully smart and multi-layered so that adults would like it," she says of the album, tentatively titled Merry Go Round. "I kind of liken it to The Beatles 'Rocky Raccoon.' It's whimsical and storytelling but still a well-crafted pop song."
In addition to producing her own album, Jewel shared her songwriting chops with the contestants of Bravo's newest reality competition, Platinum Hit, late last year when she signed on to serve as host and judge alongside Kara DioGuardi.
"I'm so passionate about songwriting. It's a world a lot of people don't really know exists," she says of the show, which premieres May 30. "I love mentoring talent. I really, really love the contestants and being able to work on the show."
Which, lucky for Jewel, happened to coincide perfectly with the timing of her pregnancy.
"I found out right at the beginning of the shooting," she notes, "so I wasn't showing or anything by the time we wrapped. It was pretty easy."
— Kiran Hefa