Happy Earth Day! A Guide to Green Cleaning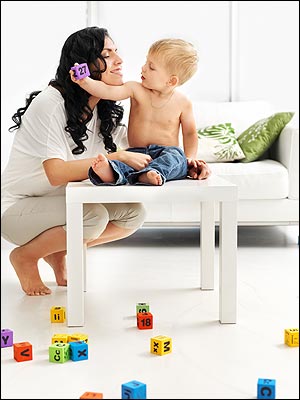 Lise Gagne/Getty
No one wants harmful chemicals near their family.
That's why it's key to find eco-friendly cleaning products that will do the job without using the nasty stuff.
In honor of Earth Day (April 22), we rounded up our fave green cleaners. Check them out below.
The Ionator HOM from Active Ion ($179) cleans using the power of… water!
When the trigger is pressed, a slight electrical charge is applied to the sprayed tap water, which creates electrically charged nanobubbles that attach themselves to dirt particles (think magnets) and help to easily wipe the dirt away.

We found that the cleaning job lasts for several days, just about long as regular cleaners. And the battery on the bottle lasts for around 2 weeks. The Active Ion may not cheap, but think of all the money you'll save on cleaners.
Dyson's City Vacuum ($399) is a super powerful handheld vacuum with a small base — perfect for small, tight spaces. And it's not only designed to clean any floor type (carpet, tile, vinyl and wood), it also offers washable filters, and is bagless. The clear cannister bin is made of polycarbonate. Plus, the cable pulls out to 16 feet and automatically rewinds at the touch of a button. The City Vacuum is also easy to store and comes with several tool attachments.
Created by moms Tamar Rosenthal and Dana Rubenstein, Dapple is a collection of amazing green cleaning products. We especially love the non-toxic toy cleaner (which comes in wipes or a spray). There's also a dish liquid and laundry detergent that work really well. Plus, everything is phthalate-, paraben- and dye-free, as well as, biodegradable, and has been certified to contain no detectable levels of dioxane. They also smell great, due to lavender essential oil.
Earth's Best is best known for their organic baby foods, but did you know the company recently introduced a bunch of baby and home care products? If you are going to use a disposable diaper, reach for their Chlorine Free diapers. Made with renewal resources like corn and water, they're absorbent, as well as, latex-, dye- and perfume-free. We were very pleased with how well they worked. The All Purpose Nursery wipes are also great — especially for those frequent sippy cup spills.
For more on great green cleaning products, go to healthychild.org.
— Nancy Johnson Horn