So Cute! Crewcuts Animal Charity Tee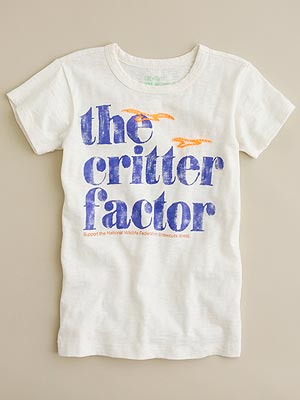 Courtesy of J.Crew
Ever since he could toddle, he couldn't pass by a stray dog or cat without wanting to bring them home.
And every time he hears about a critter in need, he jumps to help out.
Well, we've got the perfect gift for your mini animal lover — Crewcuts' new limited-edition Critter Factor tee ($25).
Crafted from slub cotton, the adorable top is super soft. Plus, it's pre-shrunk for a more cozy fit.
But what will really put a smile on your little one's face is that 100 percent of the T-shirt's proceeds will be donated to the National Wildlife Federation to help animals affected by the Gulf oil spill.