1 Trend, 3 Ways: Mini Button-Down Vests
Forget the whole suit! Hollywood's most dapper tots are rocking tailored vests while out and about. Sparrow Madden and Romeo Beckham paired black versions (pinstripe and solid) with T-shirts for a more rocker vibe, while Levi McConaughey went the more traditional route with a plaid vest, white collared shirt and pageboy cap for dinner at Nobu with mom Camila Alves in Los Angeles on April 6.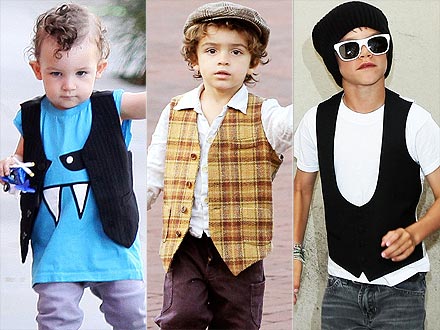 GSI Media; X17; Clint Brewer/Splash News Online
From special events to mini fashion statements, button-down vests are a fun way for your little guy to polish up his style. Want one for your pint-size hipster? Check out our top picks — for every budget — below.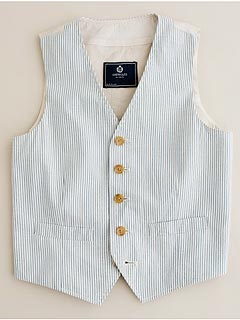 Courtesy J. Crew
Splurge
If the family's heading to a wedding this summer, dress your little guy in Crewcuts' Seersucker Boys Vest ($69.50) paired with a white top and pants for a truly classic look.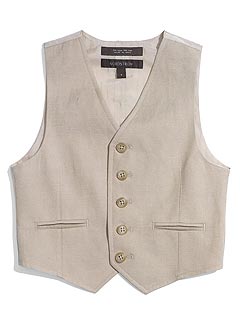 Courtesy Nordstrom
Affordable
Is your tot a little on the slim side? Try the cream Linen Blend Vest ($39.50) by Nordstrom — it has an adjustable belt for a comfy, yet tailored fit.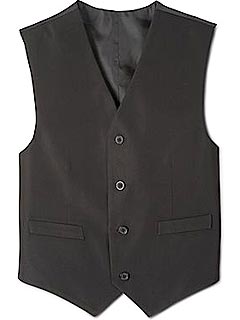 Courtesy JCPenney
Bargain Buy
What a deal! Van Heusen's Stripe Reversible Vest ($18) is like having two vests in one. One side is solid black, while the other has pinstripes.
— Anya Leon