Nick Cannon 'In Awe' of Mariah Carey's Strength During Pregnancy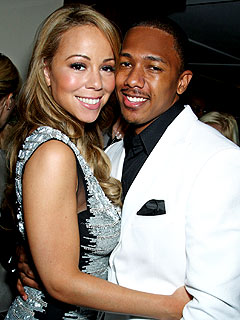 Marion Curtis/Startraks
Mariah Carey is known for being a diva, but when it comes to handling pregnancy with twins, the singer's hubby Nick Cannon says Carey, 42, couldn't be more selfless.
"I'm in awe of my wife," Cannon, 30, told PEOPLE Friday at NBCUniversal's Summer Press Day at the Langham Hotel in Pasadena, Calif.
"She is the most beautiful, strong person I've ever met. Seeing her go through this and have to literally just relinquish everything that she's always been, and sacrifice her being for her children is just the most beautiful thing I've ever seen."

As for Cannon, he, too, is enjoying impending parenthood.
It's been the most amazing journey I've ever been on," the America's Got Talent host says. "I've heard that the journey only gets better, so I can't wait."
So, how does Cannon feel about co-parenting with one of the most famous women in the world?
"I'm an ordinary guy in an extraordinary situation," he says. "I got a chance to marry my dream girl. I got a chance to live my dream and entertain people for a living. Everything I do is a blessing. I just wake up happy everyday and I try to spread that joy. If I can make people smile everyday, then I'm doing my job."
And it would only be expected that even though the babies have yet to be born — they're due May 14 — any kids of Carey's have already been showered with gifts galore.
"We have so many baby clothes," Cannon says. "The babies have a bigger wardrobe than my wife and me put together.
Which celebrity power couple is responsible for giving the babies the best gift so far?
"Jay-Z and Beyoncé gave us a cool dinette baby tea set," Cannon says of his favorite item. "It comes with a table and chairs."
— Dahvi Shira