L'ovedbaby: Adorable and Soft Baby Clothing and Accessories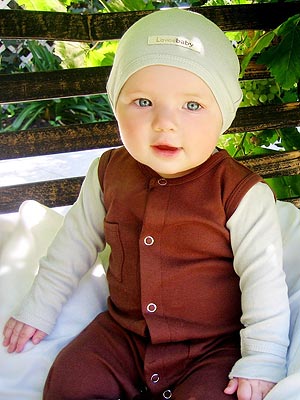 Courtesy L'ovedbaby
There's no shortage of adorable baby clothing on the market these days.
But one brand has inspired love from stylish celeb parents like Halle Berry, Brooke Shields and Milla Jovovich: L'ovedbaby.
Their line of 100 percent cotton separates are soft, perfect for layering — and sold for a good cause.
The company started in 2004 when founder Sharon Oved, pregnant with daughter Leigh, learned her own mother was fighting breast cancer.
The scary news inspired Oved to read extensively about the health benefits of breast feeding.
But she found nursing Leigh wasn't as easy as mastering a good latch.

"My most challenging moments came when I had to breastfeed in public: restaurants, malls, at gatherings," says Oved, who would carry around an old bed sheet to drape over her body while nursing. So she decided to create a garment that would allow her to "nurse privately in public."
The result? The L'ovedbaby signature 4-in-1 nursing shawl ($33).
Oved, whose mother, Nava, lost her cancer battle in 2009, is now a mommy of four: Arielle, 11, Eli, 10, Leigh, 6, and Shiri, 1.
And she's expanded the company to include a full line of baby clothing and, in memory of her mother, donates a portion of L'ovedbaby's annual profits to fund breast cancer research.
Charitable giving aside, L'ovedbaby's kiddie clothes are a hit with celebs and civilian moms alike. Top sellers include plush burp cloths ($15), arms-free swaddlers ($30) and the Cotton Basics Collection ($8 to $22), which features everything from caps and reversible bibs to overalls and dresses.
— Alexis Chiu