Ali Larter Loves Theodore's 'Fits of Giggles'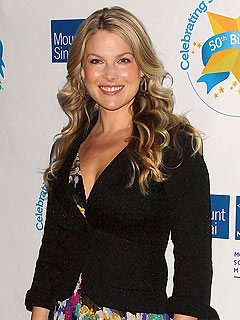 Jeffrey Ufberg/WireImage
While she admits motherhood has its challenges, Ali Larter says it's her son Theodore Hayes' latest milestone that make the sleepless nights and crying eyes worth any of the hardships.
"He just started having these fits of giggles, and it's amazing," the actress, 35, told PEOPLE Thursday at the Pampers Little Miracles Campaign Launch at Mt. Sinai Hospital in N.Y.C. "My child laughing is pure joy."
And what about the pressure to lose the baby weight?
"We'll get there," laughs Larter, who gave birth on Dec. 20. "I think every woman would love to drop her baby weight as quickly as possible but I gained quite a few, so it's taking a little bit longer."

Even so, an already svelte Larter credits her post-baby body to hiking, Pilates and a little yoga — activities she enjoys whenever she can "take a little time for myself."
Most importantly, though, having a healthy baby boy with her husband, Perfect Couples star Hayes MacArthur, leaves her most thankful.
"I am humbled by Theodore," Larter said, teary-eyed. "I feel very lucky to be able to be on this adventure with him and my husband."
— Kate Hallett