Design a Green Baby Room with Peaceful Nursery App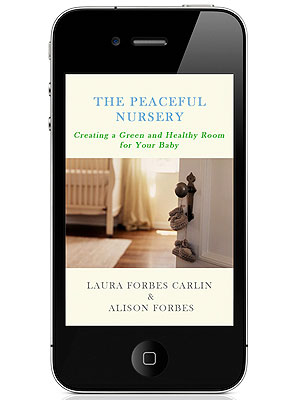 Courtesy Inspired Everyday Living
When there's a baby on the way, mom and dad have lots on their mind.
And these days, much of their focus is on creating a healthy, green nursery for their new bundle of joy.
Well, now there's an app, The Peaceful Nursery ($2), to help with those big and sometimes daunting decisions.
Created by Laura Forbes Carlin and Alison Forbes (authors of the book with the same name, as well as, the website Inspired Everyday Living), it guides expectant parents in the right direction when it comes to decorating and preparing for the early months with baby.

Packed with great tips including how to set up the nursery to help baby sleep (what parent doesn't want to take advantage of this?) and how to keep your home healthy (cleaning products, electronics, ventilation) for baby, it's chock full of useful information. But most of all, we love the convenience of the handy checklists that help parents keep track of all the nursery items they need to purchase. Not only can they can check off items as they buy them, but they can tap on products for green shopping guidelines too.
If there's one thing parents-to-be need, it's a way to make things easier in the months before baby comes. And, this app makes creating a beautiful and healthy nursery a breeze.
— Stephanie Phoenix