Padma Lakshmi: Krishna Is a 'City Baby'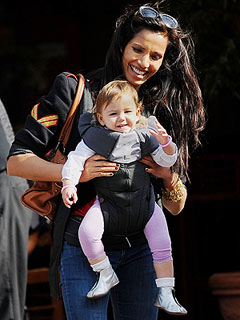 Humberto Carreno/Startraks
A year after giving birth to her first child, Top Chef judge Padma Lakshmi has opened up to PEOPLE about little Krishna Thea's milestones – and says her daughter has taken to city life like a mini Carrie Bradshaw.
"She's definitely a city baby," Lakshmi, 40, said Tuesday at an event to celebrate Frito-Lay all natural ingredients products in New York City.
"I was a city child too, whether it was in a big Indian city like Bombay or here in New York City, so she's the same. She loves being in the city."

She says Krishna is certainly healthy and is thriving as a New Yorker.
"She's growing every day and always learning and seeing and discovering new things," Lakshmi says. "So it's wonderful to see the world through her eyes."
And, she says, her daughter even has a favorite activity at the tender age of 14 months.
"She always likes going out and seeing new things," the new mom says. "We walk around a lot and that's a way for her to kind of explore."
Lakshmi also revealed Krishna's diet, which is admittedly not as spicy as Mom likes it.
"She eats what I eat. She's on a lacto-vegetarian Indian diet," Lakshmi says. "She's still breastfeeding, that's where the lacto part comes in. She can't eat the spicy food that I love since it would be too hard on her system but other than that she'll eat the foods that I make for her."
And like a true New Yorker, Krishna's schedule is already booked for the future. She's all set to have playdates with Top Chef judge Tom Colicchio's newborn son, Mateo.
"They're nesting right now, as I'm sure you can imagine," Lakshmi says of the family. "But once they're out of that stage, yes. Tom's older son Luka and Krishna know each other really well."
— Sara Hammel and Mussarat Bata