Heidi Klum: I Want My Kids to Be the Best They Can Be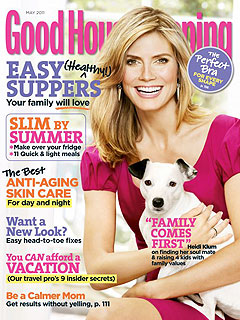 Courtesy Good Housekeeping
Heidi Klum always knew she wanted a big family — and it didn't take long for the mother-of-four to become quite the familiar face at her local hospital!
"Every time I left the hospital with a big smile on my face and a baby in my arms, I said to the nurse, 'I'll be back next year!'" the supermodel, 37, reveals in Good Housekeeping's May issue.
Now raising Leni, 6½, Henry, 5½, Johan, 4, and Lou, 18 months, with husband Seal, Klum admits their brood — and spirituality — are as strong as ever.
"Family comes first. You're the only thing they have," she says. "As my husband would say, 'How can you make a child and then think there is no God?' And what I put in the world — meaning our kids — I try to make as good as I can."

And Klum tries her best to follow through on her promise while still managing to keep her cool. "I don't like having to change my tone for them to know I mean business," she says. "But sometimes that's what it takes, and someone has to stop playing, sit down, and have a little chat with me."
Fortunately for "lawyer type" Leni — who recently passed the princess phase where "everything had to be pink" — her negotiating skills can sometimes win even mom over! "She has wits and ways to manipulate anyone into whatever she wants," Klum shares.
"And you know what? Sometimes, if she has a good point, I let her have what she wants."
As for her younger brothers, Johan is the "brainiac," while Henry is not afraid to show off his flair for unique fashion. "He lives in his own world," explains Klum. "We went to dinner all dressed properly [and Henry wore dinosaur slippers]. You can barely walk in those things, but for him, it's not weird at all."
However, adds Klum, unusual family outings aren't out of the ordinary! When the couple made the decision to break the children of their pacifier habit, Klum and Seal decided to head to the beach for a special ceremony.
"We had tons of nunus — that's what they call them — and we went to the ocean and threw them in for the Nunu Fairy," she laughs, recalling that the pacifiers kept washing back to shore. "I'm sure people were thinking, 'What's with all these pacifiers?'"
But when they're not coming up with creative ways to hit a few major milestones or scheduling around their hectic careers, Klum and Seal love nothing more than to let the kids take over!
"I try to create a healthy balance in my life between juggling a thousand things and not having to do anything at all. We have days where every hour can be scheduled," she notes.
"And then we have days where we let the children be the boss of the day. It's fun when you don't know where the day will go and it teaches the kids to be spontaneous. Sometimes you have to plan not to make a plan."
— Anya Leon