Meet Josh Turner's Third Son Crawford Marion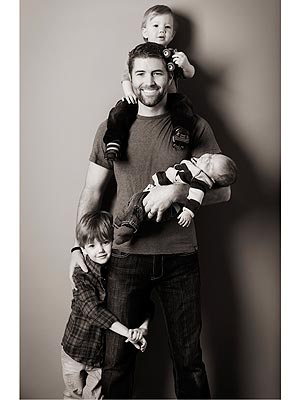 George Holz
Full belly, happy baby — at least according to father-of-three Josh Turner!
"First of all, the most important thing is just to keep them fed — if you keep them fed, they'll be happy for the most part," the country crooner, 33, tells PEOPLE.
However Turner — father to sons Hampton Otis, 4, Colby Lynch, 21 months, and Crawford Marion, 3 months — is the first to admit all the tips and tricks of parenting still couldn't prepare him for life with a brood of boys.

"Two was a lot of fun. Hampton was more of a learning experience … when Colby came along it was a lot of fun because it gave Hampton somebody to play with and it was interesting to see how they interact," he shares.
"Now with Marion on board, it's made it a lot busier for me because [wife] Jennifer trying to feed a newborn takes up a lot of her time and takes away from her sleep time too. We have friends who have up to nine children and they say three is the hardest number. I told Jennifer, 'We're either giving one away or having another one!'"
Raised in South Carolina, Turner is determined that his sons have a sense of normalcy despite his high-profile lifestyle. Equally as important? Instilling good values in his little men.
"If they can see us trying to retain that sense of normalcy and staying grounded and humble throughout all of the photography, video cameras, microphones and crowds … that will be the biggest example for them, to know that that stuff doesn't affect us in a negative way," he says.
"Raising three boys is a huge responsibility for me, especially in this day and time when I look around and there's a lack of good, strong, upstanding Christian men who are not afraid to be men and just own up to their responsibility."
But it hasn't all been smooth sailing for Turner, who says the boys have definitely changed his life.
"I've never had the patience of a teacher. That's one thing I've really had to work on — just being patient with them while they're learning something and being understanding of their age. I have to back off and let them be little."
While they're still adjusting to their family of five status, the Turners manage to squeeze in time as a couple. That said, the evenings' conversations almost always end up centering around the boys!
"We try to make time individually and time to be together as husband and wife. Even if we go away and talk about them the whole time we're gone, we still realize that having that time to talk helps us to be better parents when we come back to the children," he explains.
"It's something we have to make time for. We've seen a lot of parents let themselves go and not pay attention to what they need as people and as a couple. We definitely don't want to fall into that trap."
Watch a video from the photoshoot here. For more on Josh Turner and all your favorite country stars, pick up the new issue of PEOPLE Country, on newsstands now. For free country music downloads, go to PEOPLE.com/free.
— Anya Leon with reporting by Eileen Finan