Family Photo: The Simpson-Wentzes Reunite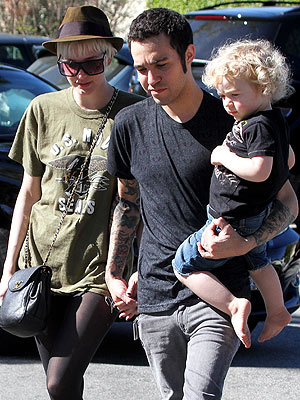 x17
Are Ashlee Simpson and Pete Wentz reconciling – or just very amicably split?
Dressed casually as they soaked up some southern California sunshine — with Wentz carrying 2-year-old Bronx Mowgli on one hip — the young family stopped by the Beverly Glen Mall in Los Angeles Thursday and picked up some coffee and iced tea at a Starbucks.
"Ashlee and Pete held hands, and Pete especially looked very happy," an onlooker says. "While waiting for their drinks, Pete had his arm around Ashlee and they definitely looked like a couple again."

Added the onlooker: "Ashlee kept smiling and lovingly leaned on Pete."
Though they look friendlier than ever, this isn't their first post-split outing. They've continued to hang out as a family, even after Simpson, 26, filed for divorce in February.
All along, sources have told PEOPLE the couple's breakup is friendly, and that being good parents to their son is their priority.
But, despite their upbeat demeanor, another source tells PEOPLE that their outing Thursday doesn't mean the two are reconciling.
"This is not a sign that they are getting back together," the source says. "They both care about each other tremendously. They both love Bronx very much, and Ashlee has always called Pete her best friend. They are in the middle of still trying to figure this out."
Reps for the two had no comment.
— Sara Hammel and Pernilla Cedenheim with reporting by Jessica Herndon