Katie Holmes Explains Suri's X-Rated Gummy Candies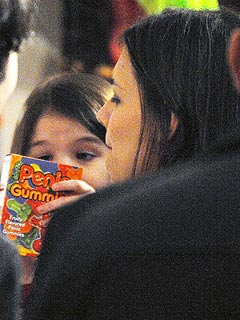 Humberto Carreno/Startraks
This one's not in the parenting handbook. What do you do when your not-quite 5-year-old daughter grabs some gummy candies off a shelf – and it turns out they're shaped like a certain part of the male anatomy?
It happened to Katie Holmes and daughter Suri recently, at a place Holmes didn't expect it to.
"I took her to get ice cream in New York at this place called Serendipity that we go to all the time. It's for kids. The clientele is children," Holmes, 32, says in an interview airing Friday on The Ellen DeGeneres Show.
"We go in, and we are waiting for a table, and she grabs some gummies that are boy-part gummies. I was horrified."

"Boy part?" DeGeneres replies.
"P-e-n-i-s gummies," The Kennedys actress says, spelling it out. "I said, 'Oh, wow – those aren't Swedish fish.'"
Suddenly, it was a parenting crisis, made all the worse by the cameras that follow Holmes around constantly.
"She was holding the box, and I was like, 'Okay, wow, we don't need that right now,'" Holmes says.
"Because I thought if I said, 'Put that back,' then she's going to say, 'What is this?' And I really didn't want to have that conversation. I was like, 'Why are they selling these here? This is for kids.' And then it was on the cover of a magazine that I'm giving her those gummies."
And of course, someone did get a photo. "I was like, 'Oh, my God, no,'" Holmes recalls. "We put them back."
— Tim Nudd