Anne Heche and James Tupper Awed By Sons' Bond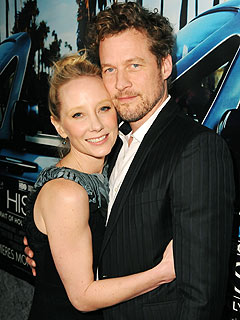 Jeff Kravitz/FilmMagic
Things never seemed to work out for families in Greek myths, so when you name your first son after the epic poet who penned The Illiad, and your second after the mythological Titan who was said to hold up the heavens, you're tempting the Fates.
It's a good thing Anne Heche and James Tupper are there to look after their boys, 9-year-old Homer and his little brother Atlas, 2.
It's even better that the brothers' idea of a sibling rivalry is to see who can dote over the other more.
"The two are having an incredible bond right now," Heche, 41, tells PEOPLE at the Los Angeles premiere of the HBO movie His Way. "They already look out for each other."

An older brother looking out for his toddler sibling is part of the natural order of things, but a 2-year-old looking out for his 9-year-old brother? Turns out Atlas is doing his best to live up to his mammoth moniker.
"Atlas wears 4-year-olds' clothes at this point," Tupper, 45, says with a chuckle. "He's a big, strong, big-hearted boy. Homer always jokes that Atlas is going to be a lineman."
Not just a wunderkind at outgrowing clothing, the towering toddler also has proven remarkably adept at getting those pesky developmental stages out of the way. Apparently, Atlas wasn't about to wait for his second birthday to experience the terrible twos.
"He had the terrible ones," Tupper jokes. "He was trying hard at an early age to get his own way."
A fact that wasn't lost on the mother, who faithfully played the role of proud parent.
"He really was a prodigy in that sense," Heche adds, laughing. "It's safe to say that he was living up to his name's reputation."
— Reagan Alexander