Josh Kelley and Naleigh Sing On Key – Together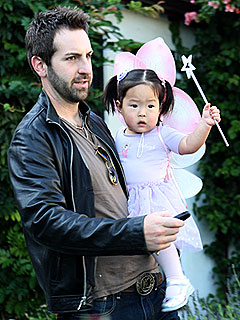 x17
It's a humbling experience for Josh Kelley — he'll be hitting the road with Miranda Lambert this spring and Taylor Swift this summer, but given the choice, daughter Naleigh, 2½, would rather listen to Yo Gabba Gabba! than Dad's tunes.
"I lose out to The Wiggles and Yo Gabba Gabba!," Kelley, 31, says. But fear not, Naleigh is beginning to recognize her own name in one of her dad's songs, 'Naleigh Moon.'
"She loves it when I sing — if I'm playing the piano or guitar, she'll come over and sing with me."

Naleigh is growing up fast, and along with mom Katherine Heigl will join her dad on tour for the first time this year.
Kelley — whose new album Georgia Clay hits stores today — has no problem gushing over his growing girl, who has adopted her parents' artistic talents. "She's a really smart girl — she'll come over and strum my guitar and even sing in the right key."
Whether or not Naleigh will follow in mom and dad's career footsteps is up to her. "I'm not gonna push anything on her — I want her to do what she wants to do," Kelley explains.
Click here to listen to a click of the track!
— Katie Kauss