Conan O'Brien a 'Softie' As a Dad, Says Wife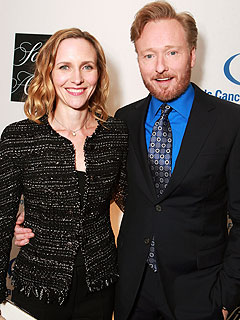 Eric Charbonneau/WireImage
For Conan O'Brien and wife Liza Powel, the 'good cop, bad cop' approach isn't always applied when parenting children Beckett, 5, and Neve, 7½.
"I think Conan is itching to play bad cop," Powel tells PEOPLE with a laugh. "Dads have that need to flex the authoritarian muscle, but Conan is such a softie. He adores them, so if I ever kind of turn him loose on them, it doesn't go very far!"
Her husband, Powel continues, "really just wants to snuggle and make up with them immediately. And they're good – they're young still, so they haven't really earned bad cop treatment yet. But when they're teenagers, it will be interesting to see if Conan can wing it!"

The couple were in Austin on March 13 for the South By Southwest Film Festival, which included the world premiere of Conan O'Brien Can't Stop, a documentary filmed during the talk show host's 32-city tour after he had left NBC but hadn't yet started at TBS.
Have the children inherited their father's funnyman traits? "Well, the goofy gene has definitely shown up," admits Powel.
"They're both super-clowny, and have a good appreciation for humor. We noticed early on that they seem to understand that things are funny [when delivered] in threes — that there's a setup, a setup, and then you land something. So they have good senses of humors, but seeing if someone can be funny takes a while to develop."
— Anne Lang