Elisabeth Röhm's Blog: Preparing My Pregnant Best Friend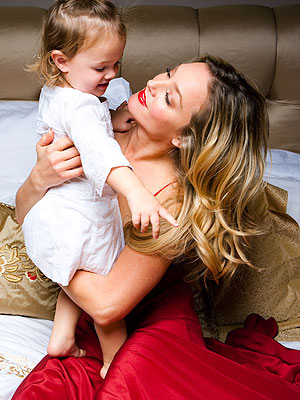 Adam Hendershot
Elisabeth Röhm, best known for her role as Serena Southerlyn on Law & Order, has a busy 2011 ahead of her.
The actress, 37, can be seen on the big screen in the upcoming films Chlorine, Transit and Abduction, and can be found online on Facebook or @ElisabethRohm on Twitter.
In her latest blog, Röhm — who is mom to 2½-year-old daughter Easton August with fiancé Ron Anthony — is excited to pamper and prepare her pregnant best friend — and wants you to share all your baby-related favorites with her!
The only experience that is as exciting as having a baby is being the best friend of someone who is having a baby. So my news today is: 'We're having a baby!' Not me of course, my best friend is pregnant! Woo-hoo!!!
As my dear friend and her husband get prepared to welcome their bundle of joy, it's my job to help make this wonderful experience as stress-free as possible. This means that I'm available 24/7 to wait on her hand and foot for the duration of her pregnancy. I also commit to throwing her the most gorgeous shower that will make her feel like a princess, to take her away for a best friends retreat, share my hard earned little insights and of course, to get her registered. I'm going to do all this and I'm counting on you to help me, PEOPLE.com readers.
Having done this blog for over two months now, I'm convinced that you moms are going to be able to help me help my friend. You are always full of ideas, revelations and wisdom! I thank you for that. So, to that end I'll start with her registry.
Here are the top items that are an absolute 'must have' for the first two years of a baby's life. My registry choices are total necessities so that she is not overwhelmed with stuff. As much as spring cleaning can be a catharsis, let's keep it simple for this new haute-mama! I'm hoping you'll throw in your ideas as well. I'm dying to hear your tips, adds and anecdotes for my best friend.
My favorite nursery furniture:
Classic: Young America (Easton has the Isabella line)
Modern: Oeuf
Best glider and ottoman for those cuddling sessions:
Classic: Little Castle (Easton's is the Royal Glider)
Modern: Monte Design's Luca Glider (so chic)
Absolute coolest bedding and room accessories:
Lambs & Ivy meets everyone's personal style and comes at a great price point. My top picks:
Strollers:
I only wish I had this mac-daddy of strollers/car seat: Orbit Infant Travel System
Then for your easy on-the-go stroller: Baby Jogger City Mini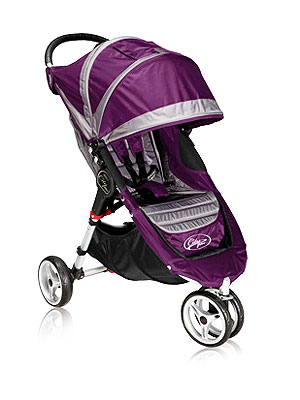 Courtesy Baby Jogger
As for as the boob department:
Best pump: Medela Pump In Style Advanced On-the-Go Tote
Best soothing ointments: Medela PureLan 100 and/or Mini Organics Soothing Nipple Balm
Innobaby Nursin' Smart Gift Set/Grow With Me
Cutest cover-up: Bebe au Lait's Hooter Hiders
Glamourmom nursing tank tops — the ease in this clever design is much appreciated, thanks ladies!
LilyPadz from Simply Lily are an absolute must (no need to explain why)
Philips AVENT Express Electric Bottle and Baby Food Warmer
Soothing Swings:
Easton had the sweetpeace by Graco and we loved it!
Mama Roo by 4Moms looks great, too!
Play:
Evenflo ExerSaucer (every family should have one and it's a great hand me down)
Tiny Love Gymini activity mat (everything by them seems to entertain)
Juno Baby
Top picks for bassinet for Mom and Dad's room:
Monte Design Ninna bassinet
Arms Reach Mini Convertible co-sleeper (we used this one)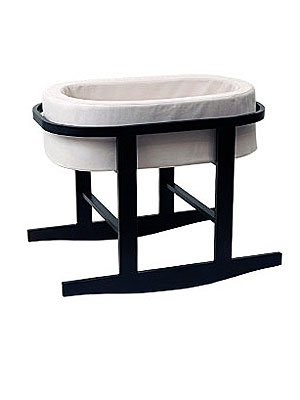 Courtesy Monte Design
Best sleeping tools:
Miracle Blanket (they were a miracle)
Aden + Anais 4-pack swaddling muslins
Sleep Sheep (a definite must-have)
Just hanging out:
Bloom Coco Lounger
BestEver Animal Mats (we wore our pink bear out till it had holes in it)
Nap Nanny (the hot thing)
On the go:
Graco Pack-N-Play (was our crib of choice while travelling)
BABYBJÖRN (Easton saw the world from one of these things)
Best monitor (so mom can be on the go):
Philips AVENT SCD510 DECT Baby Monitor
All things tushy-oriented:
CANNOT LIVE WITHOUT the Dékor diaper pail (seriously no smell) and you must have refills!
Pampers IS the best!
Best Wipes: It's a toss up between Pampers and Mustela
Prince Lionheart Wipes Warmer (not a must have but nice for the tush)
Rumble Tuff pad cover
Bathing:
Classic: Fisher-Price Rainforest Bath Center
Modern: Hoppop Bato
Cutest hooded towels:
Lambs & Ivy Bath To Go (comes with toys too!)
Aden + Anais towels
Boom Ladybug Pod: to stay organized in the bath
Aveeno: our favorite for sensitive skin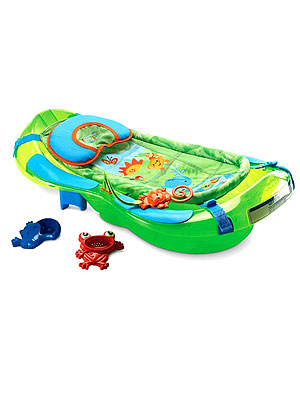 Courtesy Fisher-Price
Speaking of sensitivity ladies, this was an absolute necessity for us:
Classic: Graco Cool Mist Humidifier
Modern: Crane Cool Mist Humidifier
Teething — is what it is, but a few things seemed to take the edge off:
Sophie Giraffe
RaZbaby teethers
Peg Perego, Boon and Graco are my favorite high chairs.
Last but absolutely not least:
Summer Infant Carter's Infant Health Deluxe Grooming, Oral Care & Healthcare Essentials
BebeSounds Ear Thermometer
La Cross Safety Tip Scissors
Mullen & Fitzmaurice Natural Brush and Comb set
Fashion is my total weakness, but when it comes to kids they grow so fast. I say it's better to stay within the cheaper price points in this department. But for those of you looking for something a little more high-end, I've included your tastes buds too.
Here is my list of children's clothing:
Affordable that we love: Carter's, The Children's Place, Gymboree, Splendid for Target
High-end that we adore: Soft Spun, Jack & Salma, Deluna Kids, Mi Primavera, Kicky Pants, J. Crew crewcuts, and the Gap
And of course, every mom loves toys, toys, toys.
Being a friend is such a privilege and there is nothing like the sisterhood of a best friendship.
From her registry, to great parenting tips and words of wisdom, I hope you will help me brainstorm on how to best support and guide my friend on her new path of parenthood, readers.
— Elisabeth Röhm