David Beckham 'Amazed' By Gender Scan Surprise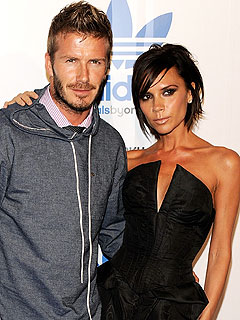 Frazer Harrison/Getty
These days David and Victoria Beckham are thinking pink when it comes to the baby they're expecting this July — but the soccer star admits that wasn't always the case.
"It's something obviously we hoped for, but obviously when you have a baby you kind of just think as long as it's healthy … [then] that's all you worry about," Beckham, 35, told On-Air with Ryan Seacrest Tuesday.
"When you have three boys, you just kind of assume that you're going to have another one."
Initially told they would be welcoming their fourth son, a later ultrasound revealed a special surprise: it was a girl!

"When we went to have the 3-month scan they said, 'Oh, it looks like a boy,' and we were like, 'Oh, great, we're going to have another boy,'" Beckham shares. "Then we went back and they were like, 'Actually, it's a girl.' The emotion hit us, and … it's amazing!"
Equally as thrilled? Big brothers Brooklyn Joseph, 12, Romeo James, 8½, and Cruz David, 6. "Some people like to be surprised [by the sex of the baby], but it's good to be prepared," he explains. "The boys are so excited as well thinking they're going to have a little sister."
— Anya Leon