Musical Duo Empowers Parents to 'Sing to Your Baby'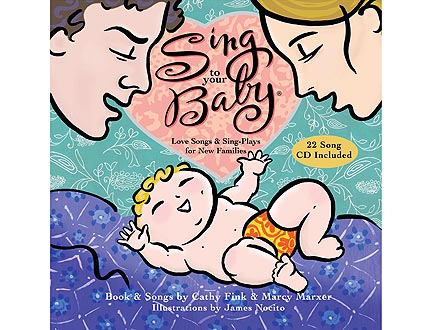 Courtesy Community Music, Inc.
Playing traditional lullabies is one way of keeping your baby entertained. But how about trying your hand at singing some sweet new tunes yourself? That sounds like music to our ears!
Musical duo Cathy Fink and Marcy Marxer (of Cathy & Marcy) have been delighting audiences for the last 25 years — and now they're bringing their experience working with children to a new Sing to Your Baby book and CD ($19.95), out May 3.
"A large portion of what we've done together for all of these years is music for kids and families," Fink explains to PEOPLE. "Singing is a vibration and babies react to those vibrations. But also they react to the parent's voice."

Sing to Your Baby features a 32-page illustrated book with an audio CD containing 22 original tracks that acts as a "sing-play" guide for parents — musically-inclined or not — who want to encourage communication with their babies through singing.
"We hope to empower people who may not be confident in their own musical skills to sing to their kids," says Fink. "This whole project really was a response to 25 years of hearing parents say, 'It's so much fun to sing with you guys but I'm afraid to do it by myself.'"
The new collection is primarily directed to babies in the newborn to 18-month range, but is recommended for kids of all ages. These songs will surely help them make the transition past babyhood an easy one.
For more information on the adorable book/CD kit, as well as more information on tour dates and workshops nationwide, visit singtoYourBaby.net.
— Hana Choi