Nina Garcia Dishes on Style After Baby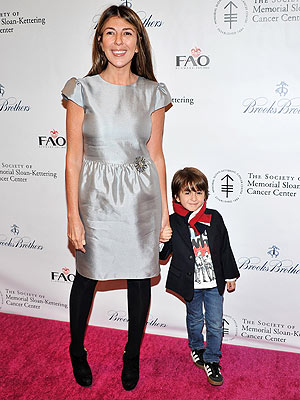 Stephen Lovekin/Getty
Usually around this time of year, Nina Garcia is sitting front row at Paris Fashion Week.
But this time, the mom-of-two — who recently welcomed son Alexander, 3 months — swapped couture for some kid-friendly fun with older son Lucas, 4 this month, at the 20th Annual Bunny Hop held at FAO Schwartz in New York City on March 8.
"Usually, I'm at shows and I always miss it, [but] I just had the baby so why not come and support something so wonderful," Garcia told PEOPLE at the fundraising event.

Along with other celeb moms including Tina Fey and Kelly Rutherford, the fashionable twosome enjoyed everything from life-size bunnies and Eleni's cupcakes to magicians and deviled eggs.
So, does the always-stylish new mother have a new dressing routine?
"I have to constantly think about what I'm going to wear the day before because it's very busy in my house in the mornings now. So I just plan things a little more carefully," said the Marie Claire fashion editor, who donned a simple silver frock, black tights and heels.
And even though she missed the European shows, the Project Runway judge still has her eye on the latest trends.
"I love what's happening in New York. [A lot] of up and coming designers are emerging. It's their time and that's very exciting."
— Shanelle Rein-Olowokere with reporting by Mussarat Bata