Tina Fey's Daughter Collecting Credits on 30 Rock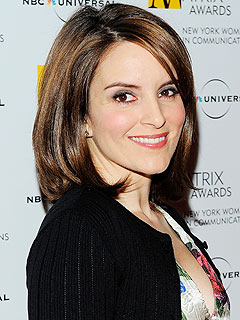 Jemal Countess/Getty
Tina Fey might be a big time comedienne (with the Emmys to prove it!) but it turns out that her 5½-year-old daughter Alice isn't quite convinced.
"I think she thinks Daddy's funny," Fey told PEOPLE at The Society of Memorial Sloan Kettering Cancer Center's Bunny Hop, held Tuesday at FAO Schwarz in New York City.
"She's very funny," Fey, 40, added. Even though Alice hasn't yet learned to read, she's credited on 30 Rock as the creator of the show's quip "I want to go to there," and her other antics constantly keep Fey on her toes.
"Last night I called to check on her and she was just chanting, 'Apple juice! Apple juice! Apple juice!' Over again until she got some apple juice," she laughed.

Even though Fey seems to be balancing her career and motherhood, she's the first to admit that having a child changed her.
"When you're single you're like, 'Let's work till 10 p.m.!' You don't care," she notes. "Once you have a kid you're like, 'Oh yeah. If I'm exhausted because my kid was up all night from a cold so are 10 other people.' It makes you more sympathetic."
— Mussarat Bata