Matthew McConaughey: Being a Dad Feels Good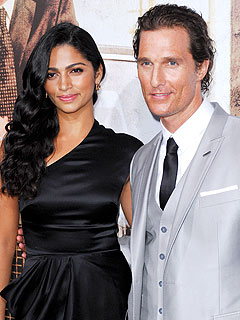 Adhemar Sburlati/Broadimage
Forget "gym, tan, laundry," Matthew McConaughey had his own three-step plan for transitioning from bachelorhood to being a father of two.
"Here's how it goes," the actor tells PEOPLE, "Plants, dogs, kids."
McConaughey, 41, admits he's still mystified by the effect that his children, Levi, 2½, and Vida, 14 months, and his partner Camila Alves, have had on him.
"It's kind of hard to explain," he said at the L.A. premiere of his new movie, The Lincoln Lawyer. "But it feels good. When you have kids then you'll know what I'm talking about."

Though says there are no immediate plans to expand his family, he admits that his role as a father has altered not only the way that he perceives himself, but his career choices as well.
"I would say that it's no coincidence that the last three movies that I've done have to do with the way that I'm looking at life," he says.
— Reagan Alexander