Review: ErgoBaby Organic Baby Carrier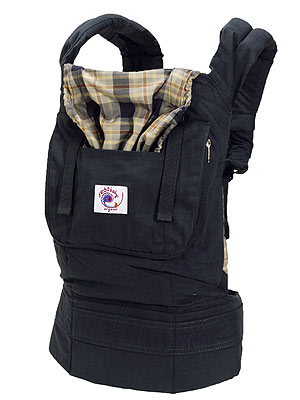 Courtesy ErgoBaby
Putting on a baby carrier can often be like a marionette production.
There are straps over your arms, buckles around your waist, cinches hanging from your chest.
Throw your precious cargo in the mix and toting your baby on your chest can be quite daunting, and even dangerous.
But luckily for parents on the go, ErgoBaby carriers ($120-$148) make carrying your baby safe and a snap — and you don't need to have a degree in engineering to figure out how to use them.
Check out our review of the new organic carrier below.

Things We Like:
Made with plush, organic cotton, ErgoBaby's new organic carrier has a broken in feel, which made our baby comfortable right away. And putting it on is a cinch. Unlike other brands, it's definitely a one-man (or woman!) job. If there's any confusion, it comes with a clear and illustrated instruction manual that explains simply how to put baby in the carrier safely and snuggly.
Available in three stylish colors (navy, tan and green), it's also very versatile. There are three ways to comfortably wear it (front, hip, and back or piggyback) so you can switch things up. And despite it's hefty price tag, you'll get plenty of use out of it as your child grows. It accommodates babies from newborn up to 45 lbs.
Our fave feature? The front pocket. It's the perfect place to stash your wallet, phone and emergency binky while you're running around town.
Things We Didn't Like:
We tried the front carry position with a bundled up 6-month-old and the outfit made it difficult for her little legs to spread around our waist as instructed. So you'll definitely need to consider what baby is wearing when toting her in this position.
Also, our male tester found it hard to snap the clasps by himself because of his wide shoulders. But one could argue that this is a positive thing: it made him feel very buff. And, if your baby enjoys facing outward, this might not be the perfect carrier for you since baby is always facing your body no matter which position you use.
Moms & Babies Rating:
If you're big on comfort and want an eco-friendly carrier that's easy to use, this is the one for you.
— Amy Jamieson