Melissa Joan Hart on Breakfasting with Her Boys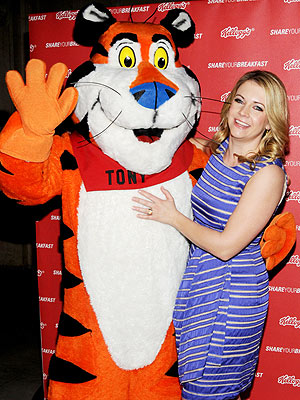 George Napolitano/FilmMagic
Mom-of-two Melissa Joan Hart has been a staple on our TV screens for years — and now she's hoping to share breakfast with us as well.
The Melissa & Joey star, 34, has teamed up with Kellogg's to spread the word about their latest program with Action for Healthy Kids, called Share Your Breakfast.
Aimed at helping the 1 in 4 children who go to school without a morning meal each day, Hart dishes on her participation, the latest with sons Mason, 5, and Brady, 3 this week, and why her iPhone is always close at hand!

Can you tell us a little about the Share Your Breakfast program and why you decided to get involved?

It's a wonderful program — Kellogg's is teaming up with Action for Healthy Kids to get 1 million breakfasts to kids who may not otherwise get them by the start of the 2011-2012 school year.
The way they're doing it is by asking people to snap a photo of their breakfast, then text it (send "share" to 21534) or upload the picture on the Web site (ShareYourBreakfast.com) every morning until July 31st. You can also Tweet it using the hashtag #ShareURbreakfast. Each time, Kellogg's will donate to Action for Healthy Kids.
There are 1 in 4 kids that go hungry to school every morning … it's just unbelievable and unacceptable. Kids need fuel in the morning to be able to focus on learning at school. There are more children in poverty now that there have been since the Great Depression.
They're doing a great thing — I went to Grand Central [yesterday] morning and a bunch of kids came to eat with me for National Breakfast Day. We had cereal and Eggo waffles, and all the commuters coming into the city could grab cereal and information.
We're just trying to get the word out, especially because it's so easy to participate in this program. Change your Facebook profile picture, text a photo of your breakfast…
Since yesterday was National Breakfast Day, what's a typical breakfast you'd serve Mason and Brady?
Well they're obsessed with pancakes because their dad loves to make them in the mornings. They love their eggs and cereal, too.
Lately it's been Fruit Loops and Apple Jacks — Mason loves to help out and pour Brady's cereal for him. It's when he gets the milk out that I get really nervous! Mason fills the bowl right to the top. But they say no use crying over spilt milk, right?
It's the cutest thing to watch big brother take care of little brother.
What's the latest with the boys? Last time we talked in August, you were dealing with preschool and potty-training…
Still potty-training Brady! He's not taking to it — he's just being lazy. It's funny, Mason was so independent and fearless and Brady is more like, "Pick me up, carry me here, do this for me." He doesn't see the point of potty-training when he's wearing a diaper and can just go in there. It's so funny the differences between the two.
We're still out on the East Coast and that's where the boys are attending preschool — both of them just got their yellow belts in karate and have been taking ice-skating lessons.
Brady's third birthday is coming up next weekend — how are you celebrating?
They're like the Kardashians with all the parties! (laughs) For Mason's fifth birthday [in January] we did Disneyland as a family, then had a bowling party with his California friends and went ice-skating with friends in Connecticut.
Poor Brady though — the youngest child always gets the shaft. He's having his party at the same place he did last year — the local jumpy place, with lots of Buzz Lightyear. He's obsessed with Buzz Lightyear! Lately he'll only answer to Buzz and he calls me Jessie. I say, "Brady?" and he replies, "I Buzz, you Jessie!"
Then when Mark and the kids come out to California to visit me while I'm filming, we're going to do a family trip to Sea World for his birthday as well.
So news just broke that Melissa & Joey will return at the end of June — what can fans of the show look forward to seeing?
I'm so excited — we have 18 great episodes coming up. The first 12 were wonderful but these are even better. The writers have the hang of it and everything's really flowing now.
It's been so hard to be at work filming this whole time and not have anyone see what we're coming up with. Instead they're saying, "You didn't get cancelled, right? When are you coming back?" So now we know – June 29th! And then just before that, we have the first half of the season coming out on DVD on May 24th.
It's going to be a great run; we have some wonderful guest stars coming on the show — Viveca A. Fox, Scott Michael Foster and John Ratzenberger. He did the voices for Hamm in Toy Story and Mack in Cars, and he came to the set and recorded messages on my phone for both of my boys. "Hey Brady, it's Hamm … hi Mason, it's Mack, I hear it's snowing in Connecticut…" It was really cute.
Between filming the show and running Sweet Harts in California, plus being a mom at home in Connecticut, how do you stay connected with your husband and sons when you have to be away?
You know, everyone has to make sacrifices for their families and we're no different. Thank God for the iPhone and the FaceTime application! I've been able to watch my sons at their school programs, taking their ice-skating lessons and getting their karate yellow belts. Sometimes I'm looking at the phone for 45 minutes while I'm in the makeup chair but at least I'm not missing the important moments.
Also my friends in Connecticut are just so great — they show up at school with lollipops and tell the boys, "Your Mommy wanted you to have these today." Then they call me saying, "Umm, I gave your kids candy, I hope that's okay…" but I really appreciate it.
It can be challenging but I think the move we made was really good for our family. It's been great for Mason and Brady to be able to have a normal routine, for Mark to be with them and also be able to work on his music while I'm back and forth.
To keep up with Melissa, follow her on Twitter @MellyJHart, or become her fan on Facebook. Melissa & Joey premieres June 29 at 8 p.m. on ABC Family. To participate in Share Your Breakfast, snap a pic of your morning meal and text "share" to 21534, Tweet it with the hashtag #ShareURBreakfast, or upload it to ShareYourBreakfast.com.