Uma Thurman Narrates Video for Ralph Lauren's New Kids Collection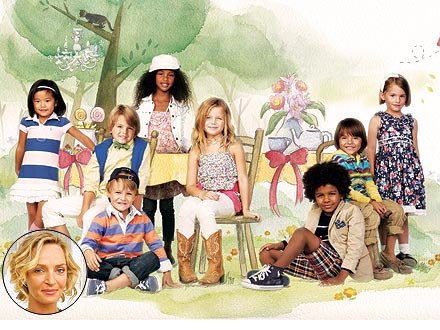 Courtesy Ralph Lauren
When Ralph Lauren approached Uma Thurman to narrate the video for their spring 2011 children's collection, the mom-of-two was more than happy to oblige. Not only is she a fan of the brand, but the company is also donating a portion of the proceeds to one of her fave charities — Room to Grow.
"Ralph Lauren is committed to bettering the lives of children in need and I'm thrilled to partner with them," said the actress. "I love being able to help another mother who has the same aspirations for her children as I do, but simply does not have the resources."
Completely interactive, the e-storybook features an adorable group of kids dubbed the RL Gang that shoppers can click on to view (or buy) their looks including sporty rugby shirts, dark jeans, preppy plaid rompers and floral-print sundresses. But the adventure isn't just online. There's a fun print version ($16.95) of the book available at Barnes & Noble.
Check out the full collection at ralphlauren.com/rlgang.com.