Elisabeth Röhm's Blog: My Co-Sleeping Conundrum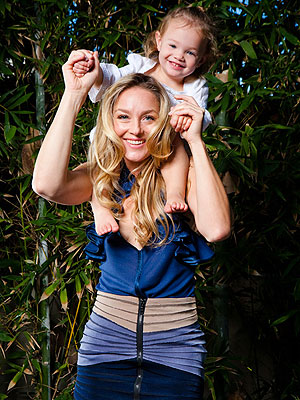 Adam Hendershot
Elisabeth Röhm, best known for her role as Serena Southerlyn on Law & Order, has a busy 2011 ahead of her.
The actress, 37, can be seen on the big screen in the upcoming films Chlorine, Transit and Abduction, and can be found online on Facebook or @ElisabethRohm on Twitter.
In her latest blog, Röhm — who is mom to 2½-year-old daughter Easton August with fiancé Ron Anthony — is gearing up to get Easton sleeping in her own bed — again!


Not so long ago, when Easton was the size of a 6.8 lbs. sweet pea, she changed our world forever and for the better. At the same time of life shifting, we made the decision to co-sleep. It was a gradual decision; one made slowly as the first few months of sleepless nights unfolded.
Of course, we had decorated Easton's room carefully and lovingly. Placing each letter of her name in swirls of paint above her lavender and lime bedding and ever-so-girlie crib. We had picked out the perfect nursing chair that Mommy and baby E could rock in through those dark hours of the night. Point being, we had not registered for the best co-sleeper on the block. We had not anticipated this decision. At that time we still had visions of maintaining a passionate child-free bed/zone.
Well, that vision quickly came to an end as the days progressed and Mommy's sleeplessness advanced, making the evening's trek up and down the stairs somewhat dicey. Not to mention that Daddy's inability to beat me to the punch left the duties in my court and therefore, I was getting pretty worn out.
It became clear that for our family, cuddling with Easton through the night in our grown-up bed was the most practical, safe and restful of choices. And so that became our new nightly ritual.
Actually looking back, it was such a sweet time and I can still smell the indelible mix of baby freshness and warmth under my nose. I'd pile pillows up around me so that Easton could never roll and was safe. Those long sleeping sessions were so tender and the quiet moments of breastfeeding at night are some of the sweetest memories that bring tears to my eyes just now as I recall that time.
As a side-note, I breastfed for seven months, which was not nearly long enough for my taste. But our bodies have a mind of their own and mine had decided not to produce anymore. I'll never forget what a nurse/friend said to me at the time: "Just a gentle reminder that you might experience depression when you finish breastfeeding."
Boy, did I ever. It was postpartum in its fullest form, and I felt a huge loss from that ending. It came as such a shock too because I hadn't experienced anything like it during my pregnancy or after Easton's birth. I was working at the time and stress has a way of ending things by drying you up. The two just don't seem to go hand in hand, at least not for me.
So I'm repeating her advice: just a gentle reminder to you moms out there — it may come as a surprise, as it did for me. Breastfeeding or not breastfeeding or how long you breastfeed for … the whole subject is pretty emotional for us.
Anyway, five months into Easton's life our family packed up to go shoot a film in Seattle. We had rented a house, but it still felt more like a hotel and there was no other option than the continuation of our co-sleeping, because Easton was not taking to her new room at all. At the time, it was deeply bonding for us all to cuddle through the night in our new surroundings.
Still, we knew that when we returned home to L.A. that it would be time to start pushing into a new frontier with Easton. After all, she was going to be 8-months-old and was eating solids. There was no excuse for it anymore. It had come time for us to part our co-sleeping ways.
Because we had started Easton's life off with such night-time intimacy, it was like World War III to put her into her crib when we returned home. I must say it was rather scary to see her trying to get out of her crib and weeping, as if abandoned.
I'd rock her to sleep with a bottle and transport her to the crib. Then I'd lay down on the floor where she couldn't see me, just to make sure she was safe and that her crying jag wouldn't last more than a short time or become too out of control. We did make it through that time, and a week later Easton was sleeping soundly in her crib.
Until, of course we would hit the road again and throw her off schedule with a visit to her Grammy's house. We'd find ourselves in the guest bed like three little sausages, all snug and lined up next to each other. Cute? Yes. Comfortable? Not so much. But kids just don't take to new places in a snap, as you know. As you can imagine and quite possibly relate to, once we'd return home we'd have to start over with helping Easton to re-establish her routine.
Okay, okay, so you get the picture. This has gone on and on because of the fact that we travel so much. To add to it, Easton is tall and strong and at the tender age of 1½, she literally catapulted herself out of her crib. We heard a loud thud and then crying. It was terrifying. It only took one more time for that to come to an end.
Of course, our only safe choice was to allow her to sleep with us for several months as we debated about putting such a young child in a toddler bed. Finally, after some more sleepless nights of Easton tossing and turning in between us (another safety measure), we finally set up a fab 'big-girl bed' with safety railings.
Can you imagine? What were we thinking? What were we hoping for? A logical response, of course. Why wouldn't she want to luxuriate and sleep through the night being able to stretch out in her very own bed? It makes sense, right? I think we actually believed that she would simply embrace it and that we would have our own bed back. No such luck, PEOPLE.com readers.
Once Easton had had her own freedom, she only wanted to sleep with us. Can you blame her? So much of her life had been spent co-sleeping. How were we going to turn this ship around once and for all? We were supposed to be all caught up on sleep at this point! Not!
I reached out to a friend who has older girls — she's my go-to mom — and read a million books on the subject, like we all do. The answer seemed most articulately stated by my friend rather than the books: "You just have to power through it," she said. "Keep putting them back in bed at night even if it exhausts you and breaks you down."
Of course she added that she has had to do this throughout her girls' young lives based on different phases, needs or fears at any given moment. She basically said that the kids are in and out of your bed forever! Forever?! #@!$#@%$#! That's a really long time!!! And so the battle for sleep goes on and on in her house, ours and possibly yours as well.
So I took a deep breath, back then, and prepared myself to not give in to my daughter's spooning efforts. To make the long walk from my room to hers, for however long it took to get as quick of a turn around as possible. These late-night transfers really did the trick and in no time, Easton was sleeping in her room through the night once again.
That is, until we'd disrupt her routine and take a vacation somewhere, visit a relative or leave town for work. And so we'd find ourselves starting from scratch each time we'd return home. But at least a pattern on how to transition had been established, making it a tad easier each time. Just a tad.
I write this now because I am gearing up for another sleepless week as I've noticed the pitter-patter of Easton's feet too often in the night lately. As much as I still love the tender nose-to-nose sleeping, it's important for her and for us to sleep through the night from time to time without a foot in the rib or the nudging back and forth due to lack of space. I'm tired just thinking of it now!
We will get through it and she will once again be back in her bed for a month or some months and it will be bliss! Ahhhhhhhh! My shoulders relax just thinking of all those hours of rest. (I'll be missing those late night cuddle sessions, but that's just between us, ladies!)
It's part sugar and spice isn't it, moms?
— Elisabeth Röhm