Kate Winslet: I Raise My Kids to Be 'Grateful' and Respectful'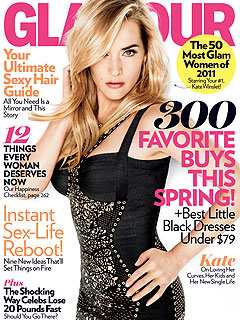 Courtesy Glamour
Kate Winslet may get the star treatment when she goes out in public, but her kids don't — not if she has anything to say about it.
"The challenge is making sure that they're never treated different just because I sometimes am," says the Oscar winner, who is mom to Mia Honey, 10 and Joe Alfie, 7.
"I always want them to be regular kids who are grateful and respectful of other human beings. I want them to know that when we fly first-class, that they are lucky."
And, she says, they appear to have obeyed their actress mom.
"The highest compliment I could ever receive about my kids — and I can say that this does happen frequently — is when the in-flight crew say to me, 'Your children are wonderful. They are so well-behaved.' Every time I am told that, I could weep," says Winslet, 35.

She also says that she's dreading the day her children learn to surf the Internet, in part because of her painful split last year from her husband, Sam Mendes.
"I am nervous about the day that Mia can Google [my name]. That's the reason I am so careful not to talk about the question that people always ask of me: 'So what actually happened between you and Sam?' That explanation will never come out of my mouth. Never."
She adds, "When my children want to know what actually happened, I want to be the first person they have that conversation with. I don't want them to read something and believe it, when it probably isn't true anyway."
— Sara Hammel