Elton John: Fatherhood the 'Best Decision We've Made'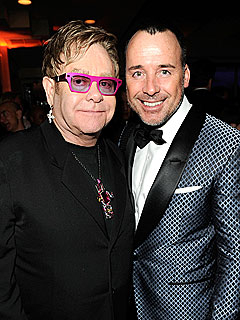 Kevin Mazur/Wireimage
Zachary Furnish-John may only be 9-weeks-old, but he's already a world traveler.
"This is the first foreign country he's visited," Elton John told Canada's eTalk on Tuesday. "First little stamp on his passport," added partner David Furnish.
Calling fatherhood "the best decision we've made," John, 63, admitted, "We're pretty happy anyway. We've been together 17 years, our careers are both going brilliantly. But this … everyone said, 'You won't believe what will happen to you.' You can't put into words how much love we have for this little boy."

With John set to start a tour later this month, Furnish, 48, says his own work will be taking a backseat to parenthood.
"I'm going to stop work for a while," he explained. "Elton will continue to tour, but I think it's important for the three of us as a family [to] go together on the road with Elton."
— Sarah Michaud