Matthew McConaughey: My Kids Are Heading for Sibling Rivalry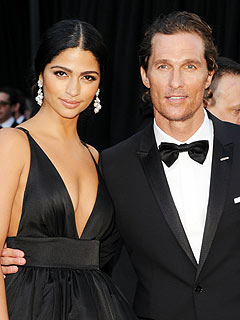 Jason Merritt/Getty
The honeymoon may be over soon for Matthew McConaughey and Camila Alves — as parents, anyway.
Their two kids — Levi, 2½, and Vida, 13 months — are heading for some sibling rivalry any day now, predicts the actor.
"[Levi] dotes on her, but [Vida is] getting big enough where it's a competition now and he's only got a few more months of being bigger than her," McConaughey, 41, told Access Hollywood Sunday on the Oscars red carpet.
"She's gonna overtake him I think and really start whooping his butt soon!"
"I have to agree with you," Alves laughed.

Another bit of baby news: The surf-obsessed McConaughey confessed Levi is timid around water!
"He's still a little spooked by the water, mind you that Pacific's a little colder than that Atlantic," the actor said. "He got in the Atlantic quicker than he got in the Pacific — when we went to Brazil. But, I think his sister's probably going to be a water bug before he will."
Another thing Vida is that Levi isn't? "She's definitely a daddy's girl," Alves, 28, said.
"It's starting to happen," McConaughey agreed. "It's nice when they notice the deep voice from across the house and they know it's papa, they know it's dad."
Up next for the actor is the movie The Lincoln Lawyer, due in theaters on March 18.
— Sara Hammel