Cool and Handy! Kidz-Med No Contact Thermometer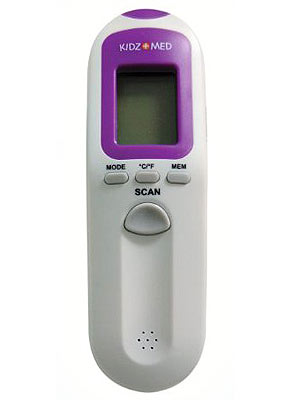 Courtesy Kidz-Med
Sick kids need their rest, so waking a sleeping baby to take their temperature isn't always the best idea.
But when a fever runs dangerously high, you don't have much choice. Or, at least, you didn't — until now.
Say hello to the Kidz-Med 5-in-1 Non-Contact Thermometer ($40).
Not only does it offer an accurate temperature without the need to lay a finger on your tot, but it now boasts a larger and easier to read backlit LED screen so you can even see results in a dark or dimly-lit room.
And because it never actually comes into contact with your baby, you don't have to worry about keeping it as germ-free as oral or rectal versions.
Best of all, Kidz-Med promises that its "no-touch" readings are just as accurate as those taken with traditional thermometers. Want more info? Go to kidzmed.com.