Christina Applegate Hits the Red Carpet – 4 Weeks After Baby!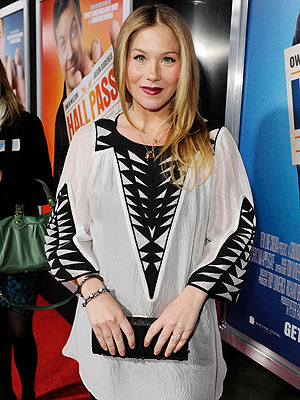 Michael Caulfield/WireImage
She's back – and better than ever!
Only one month after welcoming daughter Sadie Grace, Christina Applegate glowingly graced the red carpet in a beautiful black and white Temperley tunic and A Pea in the Pod Collection's AG Secret-Fit Belly skinny jeans at the Los Angeles premiere of Hall Pass on Feb. 23.
"Leggings and big shirt, that's what you're going to see me in for a while!" joked the actress, who stars in the film, about her current style choices.
Maybe she even shared a few tips with mom-to-be Alyssa Milano, who debuted her own baby bump at the star-studded premiere.

"Huge congrats to my friend Alyssa Milano on her expecting a bundle of joy! What a gorgeous pregnant lady she is! Fantastic!" Applegate Tweeted later that evening.
Other than enjoying the comforts of stretchy pants and loose tops, how is the 39-year-old taking to being a new mom?
"She's healed me in so many ways," the actress shared recently. "She's just made my life so much better. She's opened my whole soul."
— Shanelle Rein-Olowokere with reporting by Vanessa Diaz