Alyssa Milano Revels in the 'Whole Different World' of Pregnancy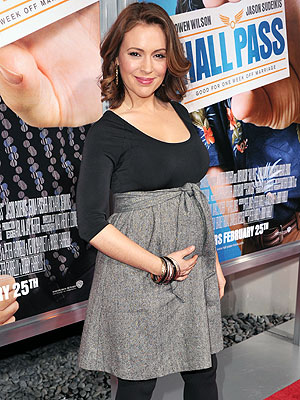 Alberto E. Rodriguez/Getty
Her first trimester is over — and so far, so good for Alyssa Milano.
"I feel really good," the actress, 38, told PEOPLE on Wednesday at the premiere of Hall Pass in Los Angeles.
"I'm not sleeping great because of the many trips to the bathroom in the middle of the night. So, I don't know. I feel good, but if there's a time I feel like I need to slow down, I will."
Milano says she and her husband, Dave Bugliari, 32, don't know the sex of the baby yet, but they've been talking about names since "before we even got pregnant."
They do have a few favorites picked out, but Milano says: "I don't want to tell!"

The actress says she actually found dressing for the premiere to be easier than usual, because the pressure's off.
"I'm not as body conscious or concerned with the way I look," she says. "It's more about what's going to be comfortable versus what looks flattering. It's a whole different world that I'm enjoying a lot."
She adds with a smile: "A muumuu? Perfect!"
Otherwise, she hasn't really started preparing for the new baby, but that's going to change shortly.
"Everyone says don't do anything the first trimester, because God forbid something happens," Milano says. "So, I haven't really done anything. I'm going to New York to do a part in New Year's Eve, and I'll be back home in three weeks, so I figure I'll start then."
— Vanessa Diaz