Rebecca Romijn Tackles the Terrible Twos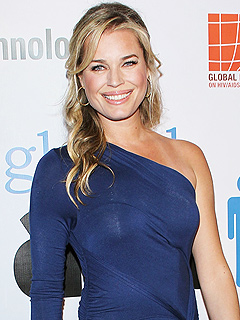 Michael Tran/FilmMagic
Not even her on-screen scrapes with Wolverine could have prepared Rebecca Romjin for the fight she was to face when her twin daughters hit that age that strikes fear into parents across the land.
"It's equal parts absolutely adorable and absolutely horrible!" the model-turned-actress, 38, tells PEOPLE of Dolly and Charlie, who celebrated their second birthdays in December.
"I'm just trying to get them to bed at night, but they're two! That's what being two is all about."
It's hard to imagine such sweet sisters causing a fuss, but as far as Romijn is concerned, this is a matter of nurture getting steamrolled by the nature of the terrible twos.

"Right now, I think the whole job of being a 2-year-old is just trying to get as sick as often as possible to build up your immune system," she joked while attending the Global Action Forum Gala in Beverly Hills. "It's been three months of fevers, colds and vomiting."
While some would consider such activities as de rigueur during award season, Romijn is quick to echo the sentiments of parents around the globe.
"There have been so many sleepless nights for my husband [Jerry O'Connell] and I," she says. "If I can just get them to stay in their beds and shut up at night, I'd be happy."
— Reagan Alexander