Jenny McCarthy: Evan Is Into Girls – and Killing Bugs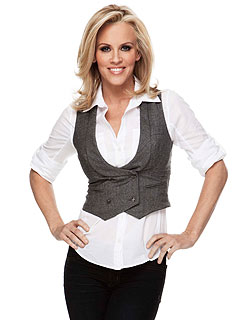 Courtesy Too Good by Jenny
Jenny McCarthy's son Evan Joseph may not be contributing ideas to mom's new bedding line, but the 8½-year-old is finding some interests of his own these days: namely bugs and girls!
"He's totally in love with women," McCarthy tells PEOPLE. "He's got pictures of three girls above his bed, that are all like 16, 15 and 14, and he's only 8."
The actress says her son is actively courting his newfound loves — all neighbors — too.
"At night he's like, 'I'm on the phone and I need my privacy,'" she jokes. "He's a total ladies' man. But I don't know if he's going to be the most romantic Casanova in the world … or Hugh Hefner."
When he's not indulging in a little romance, Evan is into something decidedly different: bugs! "He's like, 'Let's go kill some bugs in the backyard now and go dissect them,'" she shares, laughing.
McCarthy says Evan's "awesome" personality blows her away constantly. "I count my blessings every day. We've been through hell and back," she shares. "I was on the treadmill [recently] and burst out crying, thinking of a time when he'd had a seizure and I had to call 911. I'm still living those mommy nightmares. But he's alive, talking and happy — and everything is OK."
As for a recent medical journal report debunking Dr. Andrew Wakefield's study connecting vaccinations and autism, which once affected Evan, McCarthy says there's proof in the pudding.
"People aren't just listening to what this doctor has said, or listening to me," she explains. "People are listening to their neighbors and friends. That's why this story has stayed so powerful. How many times in the media have they tried to disprove the connection? Numerous times. But why does it keep coming up? It's the power of the people. Many, many more parents out there are still concerned about that connection."
For a full statement on the study, visit McCarthy's website, generationrescue.org.