Review: Britax Roundabout 55 Convertible Car Seat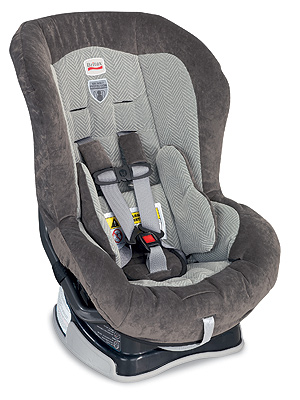 Courtesy Britax
A car seat is one of the most important things you'll buy for your child.
It helps keeps them safe and sound in the event of a car accident.
We're huge fans of Britax, but even the most well-designed seats could use an upgrade.
So, the company has recently improved their full collection of convertible car seats, now called Next Gen.
Check out our review of one of the updates — the Roundabout 55 ($200) — below:

Things We Like:
Formerly the Roundabout, this new and improved seat can now take a child up to 55 lbs.
The seat's cushy ride is also much safer now. It features SafeCell technology, which will compress in the event of a crash to lower the center of gravity and offset the forward rotation of the car seat. It's also designed with integrated steel bars, which reduce the forward flexing of the car seat.
In addition, the energy-absorbing Versa-Tether helps anchor the top of the car seat and minimize forward rotation to reduce crash forces. The car seat also offers side impact protection and a much improved (and easier to adjust!) 5-point harness.
Even better? It can now be used rear facing with babies from 5 to 40 lbs., as well as, forward facing up to 55 lbs.
Things We Didn't Like:
Not much. We're really pleased with all of the safety upgrades.
Moms & Babies Rating:
If like us, you're big fans of the former Roundabout, then you'll want to check out this new and improved version. Not only does it now have loads of new safety features, but it still boasts a comfy ride.
— Nancy Johnson Horn