Matt Damon Feels 'Very Lucky' With Life He Chose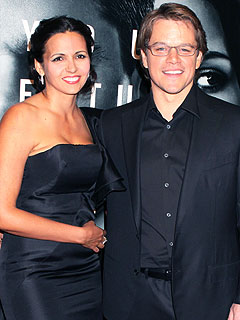 Fame
Despite the twists and turns of life, Matt Damon is exactly where he wants to be.
"I'm very lucky. Right now, I'm at a place in my life where I feel completely on the right path," the actor tells Access Hollywood.
Having recently celebrated his 40th birthday with wife Luciana and their four daughters Alexia, 12, Isabella, 4½, Gia Zavala, 2½, and Stella Zavala, 4 months, Damon proudly admits he has reached a sense of stability that allows him to treasure the finer moments in life.
"All of those bigger kind of questions have been answered for me, so now it's just about enjoying living the life that I have chosen and I love that," he says.

However, The Adjustment Bureau's bachelor days aren't far from his mind!
"I remember being 25 and 30 and not having a lot of that stuff figured out and it's always kind of there looming, 'I know I want kids some day, but I haven't met the person I want to have kids with,'" he explains. "And now that I have four, what the hell was I thinking?"
And although Damon admits to a heavy workload, he is "in control" of his schedule — and makes sure family remains his priority.
"What I really want now is health. To be healthy and to be there as much as I can and to hang out with my family," he shares.
— Anya Leon