Ellen Pompeo Letting The Parenting Milestones Come to Her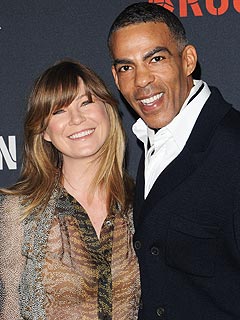 Bauer-Griffin
While some parents look at their toddlers and envision the next Willow Smith or Justin Beiber, Ellen Pompeo is taking a more laid-back approach to her daughter's development.
When asked if 17-month-old Stella Luna had reached any new milestones of late, the Grey's Anatomy star thought for a moment before saying with a laugh, "Actually no. She's been walking for a while, and now she's trying to talk."
And though husband Chris Ivery feels that their little one is, "on the verge of a major breakthrough," even going so far as to mimic his daughter's "chatter" as the couple talked to reporters at the Gucci RocNation Brunch in West Hollywood, Pompeo is more realistic.

"She does a lot of noises, for sure!" the actress, 41, says, chuckling at Ivery's imitation of their daughter.
Wanna-be tiger moms take note, as Pompeo doesn't ever see herself, or Ivery, putting any undo pressure on Stella despite the fact she combines the genetic codes of an award-winning actress and a music producer.
"Whatever she wants to be is fine with us," she says, before wrapping her arm around her husband and strolling inside the event.
— Reagan Alexander