Putumayo Debuts Fun World Culture Collection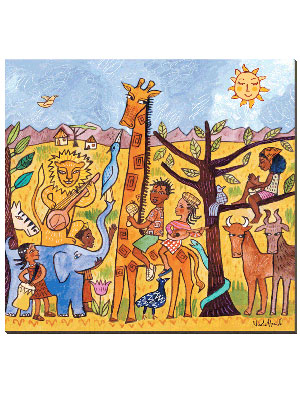 Courtesy Putumayo
Your adventurer-to-be has been dreaming of far away lands ever since he was in the crib.
Before he officially starts rocking a leather jacket, fedora and bullwhip, bring the world to him with Putumayo's new World Culture Collection.
The company — known for their successful kid-friendly folk music CDs — is now adding art prints, coloring and sticker books and greeting cards to its repertoire.
First stop is Africa. Featuring the distinctive artwork of Nicola Heindl, the new collection features bold, richly-hued scenes from life on the lush continent.

The Africa Coloring Book ($10) is full of cool drawings of jungle animals (elephants, zebras, giraffes) and musical instruments (ngoni, balafon, djembe, kora), while the Africa Sticker Collection ($12) allows your child to create fun scenes on a fold-out landscape with over 100 reusable stickers.
Our favorites include the amazing Playground (above) and Dreamland ($25 each) art prints, which would brighten any nursery.
Best of all, all of the products are crafted with sustainably-derived trees and printed with soy-based inks. Check out the full collection at putumayo.com. And keep a lookout for European and Latin American-themed products, which are coming soon.