Bathe Your Little Babe in Puj's Non-Slip Tub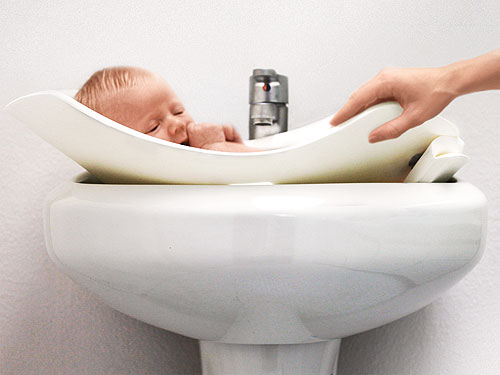 Courtesy Puj Tub
If babies came with warning signs, one of them would be that they're slippery when wet. Because they are. And wiggly too. So despite the convenience of bathing them in sinks, it's often pretty tricky to do so. Until now.
Thanks to the Puj Tub ($40) the question to every new parent's where-do-we-bathe-the-baby predicament is answered. Soft and flexible, it folds out easily into a comfy bathtub that can be placed in almost any bathroom sink.

And unlike most baby tubs that take up a lot of space when not in use, the Puj Tub stores flat so it's easy to tuck away. Plus, it helps conserve water, since it only requires a little bit to fill it up. You can also drain it with one hand, which is a huge plus, since you'll likely have a baby in your arms.
Made from non-slip PVC- and BPA-free foam, this lightweight tub — it weighs less than a 1 lb. — already has a celeb fan. Mario Lopez loves bathing his baby girl, 5-month-old Gia Francesca, in it. And for good reason. Suitable for babies up to 17 lbs., it's perfect for preemies and newborns.
Want to see it in action? Check out this cool video at babybathtubs.com.
— Stephanie Phoenix