Owen Wilson's Son Makes Valentine's Day Debut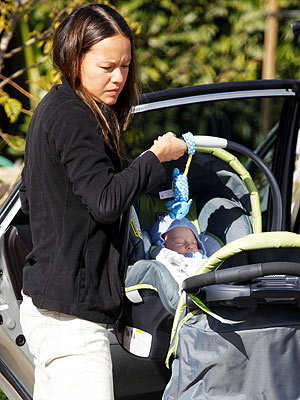 Sasha-Lins/X17
Little Robert Ford Wilson, 4 weeks, rests peacefully while his mom, Jade Duell, carries him in his car seat to a family dinner in the first photo of Owen Wilson's new baby.
The three headed to dinner with friends and family, including Woody Harrelson and his brood, at The Bazaar at the SLS Hotel in Beverly Hills Monday, where they had all had a great time.
"Everyone was laughing and smiling throughout the dinner," a source tells PEOPLE.
"It seemed like they were having a great time and the kids got along well. The kids behaved well and seemed to be enjoying a night out with their parents."

Wilson, 42, and Duell, who have been dating for more than a year, welcomed their first child together on Jan. 14 in Hawaii.
–Sara Hammel and Jennifer Garcia