Pat Monahan's Blog: Happy Valentine's Day!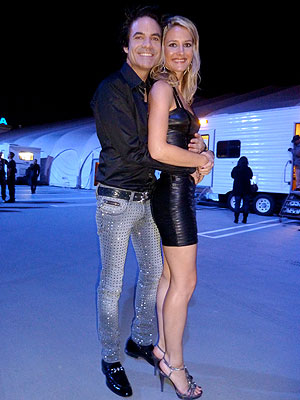 Pat and Amber – Courtesy Pat Monahan
Thanks for welcoming Pat Monahan! The Train frontman is dad to two teens — Patrick, 17, and Emelia, 13 — as well as Autumn, his 2-year-old daughter with wife Amber.
In addition to Train — who have another hit with "Marry Me" and just won the Grammy for Best Pop Performance for "Hey, Soul Sister" — Monahan also voices the lead character on Sprout's Driver Dan's Story Train.
In his latest blog, Monahan, 41, pops by to share his Valentine's plans and wishes with PEOPLE.com readers.

My most awesome of Valentine moments was while I was on tour. Before I left, I put diamond earrings in a closet drawer with a card and acted as if I forgot all about this one day romance occasion. I called my wife from the road and asked her to find something random for me that I accidentally left behind. "Can you look in my drawer?" Bingo! The con came to an end and I looked way better than a half an hour or hour before.
Man, I really need to get creative again with love and romance on Valentine's Day. Maybe this is the year. Is it all men who kind of run out of romantic steam along the way? Is it kids? Work? Do we just get comfortable that everything is either fine or easy? It's not really fair is it? I mean we pour on the charm — for sometimes years! — and then one day we blame our lack of effort on work or whatever seems convenient.
I have really got to step my game up. My wife is so good to me. She is an amazing mom, step-mom, friend and family-keeper-together-er that she deserves me really showing up this year with something special. We plan on being at the Grammys on Sunday, then Monday is Valentine's Day and on Tuesday I head to Dubai. This all after just returning from three and a half weeks in Australia and New Zealand on tour with Train.
No excuse for being lazy when it comes to the girl of my dreams. Maybe this year I can do something for her like she did for me when we lived in Santa Monica. I came home one Valentine's to 100 candles burning and a barely-dressed goddess. I suppose it will be easier to find the candles than the goddess. Ha! Bad joke.
Seriously though, maybe just some candles and flowers and a bit of alone time is enough. At times, it's hard for me to think that simple is good enough, but I really think it is. My wife likes the simple things as well as the over the top. I suppose that as long as I remember and show appreciation for her and all she does to make my life so sweet, it will be a beautiful Valentine's Day.
I hope that you are all loved and appreciated this Valentine's Day. Being loved and appreciated is pretty romantic after all, isn't it?
— Pat Monahan