Yum! Easy to Make Valentine's Day Treats from Weelicious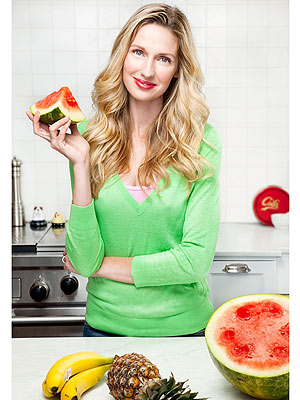 Courtesy Weelicious
I'm one of those people who loves everything about Valentine's Day.
Although I'm not fond of how commercial the holiday has become, I enjoy all the hugs, kisses, homemade cards and, of course, sweet treats!
While you can easily buy your Valentine a bag of sweet tarts covered with cute sayings, why not go to the store, buy fresh ingredients and then make something special with your kids instead?
This year, my little ones (Kenya, 3½, and Chloe, 23 months) and I have decided to make Raspberry Cream Cheese Heart Tarts for daddy to show him just how much we love him.
I came up with the idea of these homemade tarts by putting a spin on one of my childhood faves — Pop Tarts. Instead of food coloring, the pink icing is made with the juice from the raspberries. And the filling is created with fresh raspberries. If Pop Tarts had actually been made this way, my mom would have probably allowed me to eat them more often as a kid.
Check out my easy-to-follow instructional video and recipe below. Also, go to weelicious.com for more tasty Valentine's Day treats.
— Catherine McCord
Raspberry Cream Cheese Heart Tarts (Makes 10-11 Heart Tarts)
½ Cup Raspberries
¼ Cup Whipped Cream Cheese
1 Tbsp Honey
1 Double Pie Crust Recipe or 1 -14 oz Pre-Made Pie Crust*
Water
1 ½ Cup Powdered Sugar
10 Raspberries for Icing or 2 Tbsp Juiced Raspberries
1 Tbsp Milk or Water
1. Preheat oven to 400 degrees.
2. Place the raspberries, cream cheese and honey in a bowl and using the back of a fork, mash the raspberries with the cream cheese, leaving some pieces.
3. Roll the pie crust 1/4 inch thick and using a heart shaped cookie cutter, cut out hearts. (If you are using packaged pie crust just unroll and cut out shapes)
4. Place one heart on a lightly floured work surface and top with 2 tsp of the cream cheese mixture in the very center leaving a ¼ inch border around the cut-out.
5. Lightly dip your index finger into a cup of water and "brush" the border with the water.
6. Top with another heart, take the tines of a fork and gently press down the edges to adhere (so the cream cheese mixture stays inside the heart pocket) and with a toothpick, poke some holes at the top of the heart to remove any air pockets.
7. Place on a parchment or silpat lined baking sheet and bake for 20 minutes or until golden.
8. While the hearts are baking, take 10 raspberries, place in a strainer and press down to release raspberry juice into a bowl, should be about 2 tbsp of juice.
9. Whisk in the milk and slowly pour in the powdered sugar and stir to make icing.
10. Take a fork and drizzle the raspberry icing over the hearts.
11. Serve.
*You can use Pillsbury Pie Crusts **You may also fill the tarts with 2 Tsp of Nutella