Elton John: Zachary Is the 'Most Divine Little Thing in the World'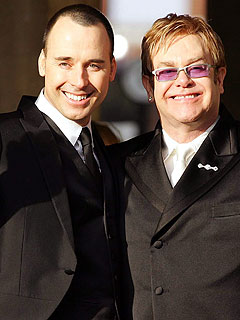 INF
As a 63-year-old pop legend, you'd figure Elton John had seen it all. And yet he says the joy and novelty of being a first-time father to new son Zachary Jackson Levon has left him a "gibbering wreck."
"He's only five weeks old, just over five weeks old, but in those five weeks, you can't imagine how much love has come out of that little boy for us, and us for him, and it's been incredible," the singer tells the British TV show Daybreak on ITV1.
John adds: "I knew it would be incredible, but honestly I'd be lying if I said I hadn't been so shocked. I'm like a gibbering wreck in front of him. I mean, I just sit there and make up songs and sing to him in gibberish. I'm very good at gibberish now."

John and his partner David Furnish, 48, welcomed their son on Dec. 25, delivered via surrogate in California. The new parents are taking turns with baby care, with Furnish doing late nights and John handling early mornings.
"He's the most divine little thing in the world," John says. "If you don't get in the trenches, you're never going to know about your son, or your daughter."
Furnish says parenthood has been a revelation for him and John. "I didn't think after 17 years we could feel any closer to each other, but I feel like the whole experience has brought us even closer together," he says.
John acknowledges that some think he's too old to be a father. But he calls himself "a young 63," and adds: I knew that it's not everybody's cup of tea, you can't please everybody … We can rise above that and just bring our child up in the proper way."
— Tim Nudd