Kellie Martin on Maggie's Favorite Things – and Maybe Having Baby No. 2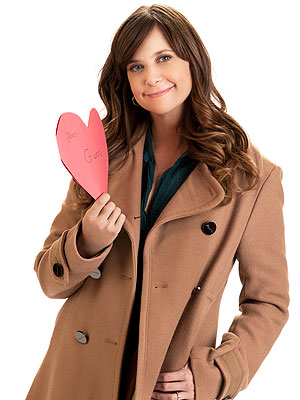 Courtesy Hallmark Channel
Kellie Martin just might be one of Hollywood's most down-to-earth moms.
The 35-year-old — best known for her work in Life Goes On and ER — has quietly raised 4-year-old daughter Margaret Heather somewhat out of the spotlight, with the help of husband Keith Christian.
But the actress is once again taking center stage, appearing Saturday night at 9 p.m. ET in the made-for-TV movie, Smooch, and working on her latest project, a children's lifestyle company called Entertaining Elephants.
We recently spoke to Martin about her busy work life — and Maggie's latest milestones.

What is Maggie up to these days?
She's in preschool, and she loves it — she's just blossoming. She's writing her name, learning these things I'd never thought she'd learn. She's always ready for the next step before I am. Kids just move on to what they're ready for, and parents have to catch up.
I'm not the type of parent to push her — I'd rather see what she's interested in. Like, 'Oh wow, you like numbers! Well, let's talk about numbers!'
She's also very interested in dinosaurs. She's obsessed with this PBS show, Dinosaur Train, which she's learned so much from. All these dinosaurs I've never heard of in my life, Maggie knows. She's also into bugs: She'll play with bugs and worms outside in a princess dress. That's how she is.
What's your favorite thing about her age?
It's the best age in the world! She's independent in a lot of ways, but still climbs into my lap and says she wants me to hold her. She's really verbal, so she can tell me what she's thinking — and no more temper tantrums, which she didn't have anyway. There's not a lot of guessing going on anymore.
Is it nice to have mom friends (like Melissa Joan Hart) who have kids around the same age?
It's essential! I've found my mom friends make me feel like I'm not going through things alone. Once a mom has her baby, she should do everything she can to find one or two moms who she can really go to to make her feel less alone with this little creature.
So finding your base of moms, even on the Internet, is necessary. There's a great wealth of bloggers and moms who are able to connect. You have to do that, rather than feel isolated.
Are you and your husband planning on any more kids?
My daughter is campaigning very hard for another child. She was campaigning for a little sister, and when that didn't happen she said, 'I'll take a brother.' She'd love it, and I know my husband would love it.
It's hard to find the time, though — I'm so enjoying her at 4, I don't know if I want to add another to the mix. At the same time, I had a sister growing up and I loved it — it's an amazing gift for a child. I'm not pregnant now, though, so we'll see!
Did being a mom make it easier to play one in your latest role, in Smooch?
It is fun to play a mom. Kiernan Shipka, my costar, reminds me a lot of my daughter. So the moment I met her, I was like, 'Okay, I can totally be your mom!' I bring that part of who I am to my work now — I don't have to pretend. So often when you do roles that are different than who you are, you imagine what it might be like. But I don't have to do that anymore.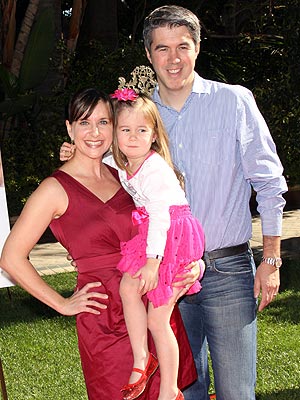 Tony DiMaio/Startraks
Tell us about the movie.
Smooch is a modern retelling of The Frog Prince. I play a widowed mom whose daughter Zoe decides she wants her mom to fall in love for Valentine's Day. Through all of these different situations, she believes she's turned a frog into a prince, and I end up falling in love with him.
It was fun to do this project because it's a romantic comedy, a fun little love story, so that was a blast. I loved working with Kiernan so much. And Simon Kassianides, who plays the prince, was amazing, just so easy to fall in love with. I just have a great job!
Does Maggie get to watch your work?
I think she's a little too young to watch all of Smooch, but I let her see parts because it's on the Hallmark Channel, so it's family-friendly. I didn't show her scenes where I kiss Simon, because she might not grasp that! But there's a dream sequence at the beginning of the movie where I'm a princess, and that was the ultimate for her.
Does she understand what you do?
She totally understands, which surprises me. She knows I get hair and makeup done, put my costume on, go to set and say lines. When I left my house this morning, to go to Access Hollywood, she said, 'Break a leg, mom!' She of course wants to be an actress, which is not exactly what I want her to want right now. I told her she has to go to college first.
So would you support her if she chose a career in acting?
Being a kid actor, you have to have your parents with you all the time, and I don't see myself taking her to auditions. But once she's out of college, I would support her. I want her to be happy with what she does in life.
Personally, I want her to be a doctor or National Geographic photographer — that's my dream for her! She has a wooden camera she takes around with her and pretends to take pictures with. She'll look at the back of it like she's looking at the image on a digital camera — since she's 4, she hasn't grown up with film at all.
You have another new endeavor, too; Entertaining Elephants?
I just became partner in this new children's lifestyle company, Entertaining Elephants, which has a store in Los Angeles and online, too. My partner Ellen designs the clothes, and they're just really fun and joyful — it's whimsical, but sophisticated and durable.
They're the kinds of clothes you'll hand down to your next child. They're eco-friendly, too; clothes are made of recycled materials, and toys are non-toxic.
I was a fan of the store for the whole time Maggie was a baby and toddler. I stopped in all the time. So when I had the opportunity to get in, I jumped to it. I want to create a place where moms and dads in Los Angeles can come to hear great parenting advice, get parenting books, get great clothes and register for their newborns.
Does Maggie offer creative input?
Always! She goes through her room, finds things and says, 'Mama, maybe we should sell this at the store! I want to give this to another child!' I'm like, 'Well, that's not really the point of the store.' When she's at the store, she thinks she owns the place — I'm teaching her that these are things that get sold. She's learning!
— Kate Hogan