Family Photo: Jodie Sweetin and Girls Shop to It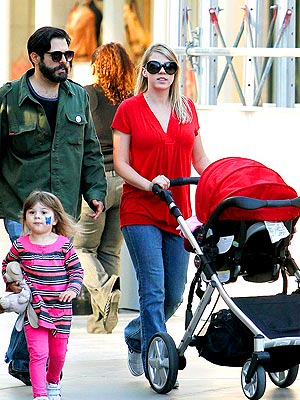 Juan Sharma/Miguel Aguilar/Pacific Coast News
The gang's all here!
Jodie Sweetin and fiancé Morty Coyle stroll with daughters Beatrix Carlin, 5 months, and Zoie Laurelmae, 2½, on Tuesday at the Century City Mall in Los Angeles.
"The first time Zoie met Bea, she looked at her and went, 'Beatwix? She was in mommy's belly?' We said, 'Yes,' and then it was, 'Look at my Thomas the Train balloon!'" the former Full House star, 29, recalls.
"She's been really sweet with her, but it's also like, 'Okay, a baby. What's in this for me?'"