Sneak Peek: Alice + Olivia's Spring/Summer Girls Collection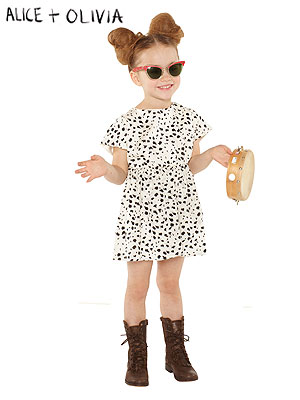 Courtesy Alice + Olivia
Since welcoming daughter Eloise in 2008, Stacey Bendet's little girls line keeps getting better and better each season.
And it's no wonder considering her adorable inspiration.
The mom-to-be — she's expecting another child this spring — loves to bring her 2-year-old mini me to the office to help with ideas.
"She comes to my office and plays every day! I want her to grow up around creative people and I want her to see that it's cool for women to work hard," says Bendet.
Well, we got a sneak peek of the spring/summer collection and it's beyond cute.
It's full of '60s-style shift dresses, ruffled tunics, flowy shorts and animal print rompers that will make your little princess swoon.
Although these pieces won't be available until early April, you can check out the current winter styles at aliceandolivia.com.