Elton John Bonds with Son Through Skin-to-Skin Contact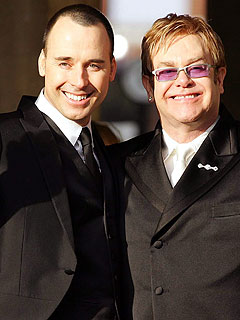 INF
For Elton John and David Furnish, their roles as parents started the minute their baby entered the world. In an interview with the Sunday Times Magazine, the couple described being at the delivery of their son Zachary Jackson Levon Furnish-John, born at 2:45 a.m. on Christmas Day.
"We did skin-to-skin contact, took our shirts off and held him so that we could make that bond," Furnish, 48, explains. "They say it's really good for the baby, and for us."
"All you need is a couple of babygros [onesies] and a lot of muslin [blankets]," notes Furnish. "Friends are being really great, giving us hand-me-down stuff. We don't want him to grow up with a sense of entitlement."

"You know, my father never came to hear me play. Not ever," John, 63, confesses in the article. "He was a tough and unemotional man. Hard. In the RAF (Royal Air Force). He was dismissive, disappointed, and finally absent. I just wanted him to acknowledge what I'd done. But he never did."
Now a dad himself, John will certain do things differently. "Elton is going to be Daddy and I'll be Papa," said Furnish.
— Helen I. Hwang