Why Nicole Kidman Kept Baby Faith a Secret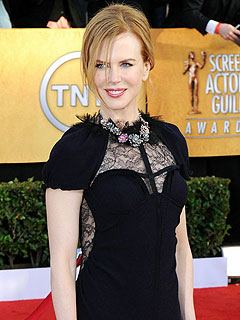 Frazer Harrison/WireImage
Now that the world knows, Nicole Kidman says keeping quiet about her 5-week-old daughter Faith Margaret was one of the toughest things she's ever had to do.
"I wanted to be able to tell everybody because I was so excited about her," Kidman told Giuliana Rancic on the red carpet at the Screen Actors Guild Awards.
Why keep it a secret?
"We just decided this was our thing together," Kidman, 43, said of keeping the news quiet with hubby Keith Urban. "It kind of just perpetuated itself."
"[And] it protects her," Kidman added, "and it protects everyone in the situation."

The Aussie actress, who presented at Sunday's awards show, announced the latest addition to her family on Jan. 17, three weeks after the little girl was born to a gestational carrier at The Women's Hospital at Centennial Medical Center in Kidman and Urban's adopted hometown of Nashville. She joins big sister Sunday Rose, 2½, and Kidman's kids from her marriage to Tom Cruise, Isabella, 18, and Connor, 16.
As for the name Faith Margaret, Kidman says she was influenced by family – and her adopted southern hometown.
"It's that southern double name," she says. The name Margaret was her grandmother's name, who Kidman told Rancic "had her last baby at 49."
Said Kidman of her beloved grandmother: "She's my inspiration."
— Brian Orloff