BumpWatch: Natalie Portman Wows In White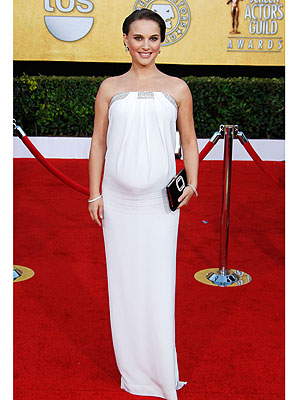 Jeff Vespa/WireImage
Natalie Portman, who's expecting her first child with fiancé Benjamin Millepied, made quite the statement in a form-fitting white Azzaro gown with sequined detail and Roger Vivier black satin clutch on the red carpet Sunday night.
Wearing $2 million worth of Tiffany's jewelry, the actress joked, "I don't wanna advertise that because I feel like people are gonna come chop my ears off or something. I need my ears."
Portman, 29, kept her ears — and went home with the Screen Actors Guild Award for Outstanding Actress for her role in Black Swan.
RELATED: Natalie Portman Wants to Enjoy Pregnancy In Bed with Popcorn