Bree Williamson Wasn't Prepared for Postpartum Emotions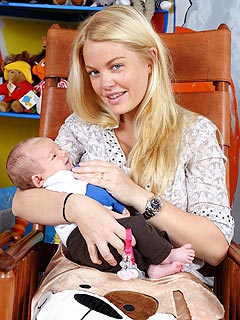 Albert Michael/Startraks
Bree Williamson was prepared to welcome her baby boy McGreggor Edward, but she certainly wasn't expecting all the emotions that soon followed.
"I was so shocked [about the postpartum depression]," the One Life to Live star, 31, tells ParentDish.
"When they described it to me in the hospital, they said you are either going to leave here happy or you'll get it so bad you will need to go talk to somebody about it."
In Williamson's case, however, her experience included a bit of both after arriving home with McGreggor — whose moniker pays tribute to her mother's maiden name — eventually leading to "three big cries a day" that lasted a week.

"I was so shocked to get these mood swings after I gave birth," she admits. "You get upset when you get home and you start thinking, 'Oh, my God, I have to go talk to a therapist because maybe I will become withdrawn.'"
Fortunately, Williamson didn't have to look very far for help; She praises husband Michael Roberts for being a strong support system in the days after their son arrived.
"My husband was there and he was great," she says. "I had to remind myself, you are exhausted, too … I was having a great time with my son … but there was a period where I would just start crying for no reason."
Now, with the family having settled into a routine, things are still tough, but 4-month-old McGreggor's "awesome" smile makes the struggles worthwhile.
"It is really, really great, and, at the same time, really, really hard," Williamson shares. "But I have to say it is so wonderful and I am having a great time."
— Anya Leon